Maropost Commerce Cloud (Neto) Setup Guide
Maropost Commerce Cloud Integration in touchSMS
Maropost Commerce Cloud Integration Setup
Once you've registered and verified your touchSMS account, you will need to set up your Maropost Commerce Cloud Integration to do this log in to your touchSMS account:
1. Navigate to Integrations > Maropost Commerce Cloud > Click Configure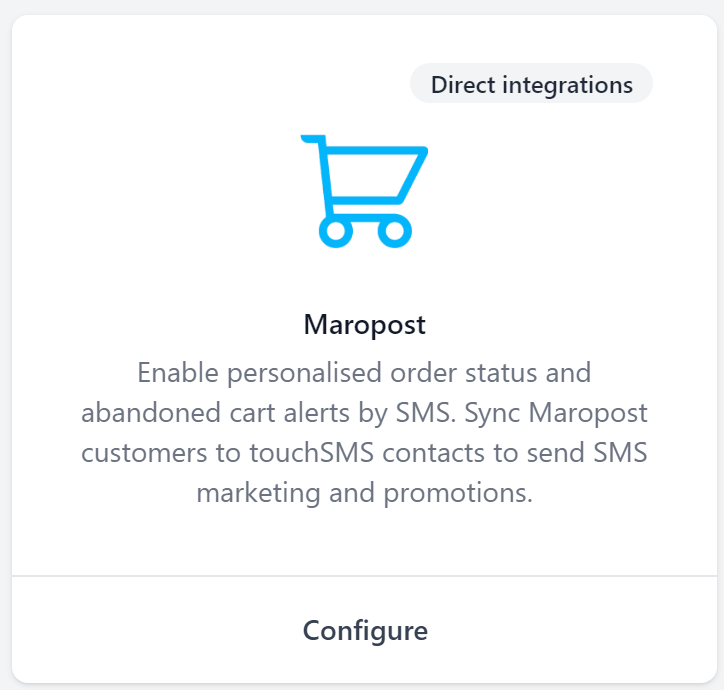 2. Enter your online store domain. Click Connect.

3. Maropost Commerce Cloud login screen will pop up in a new window. Enter your Store Account Login details. Click Log in to connect your Online store and touchSMS account.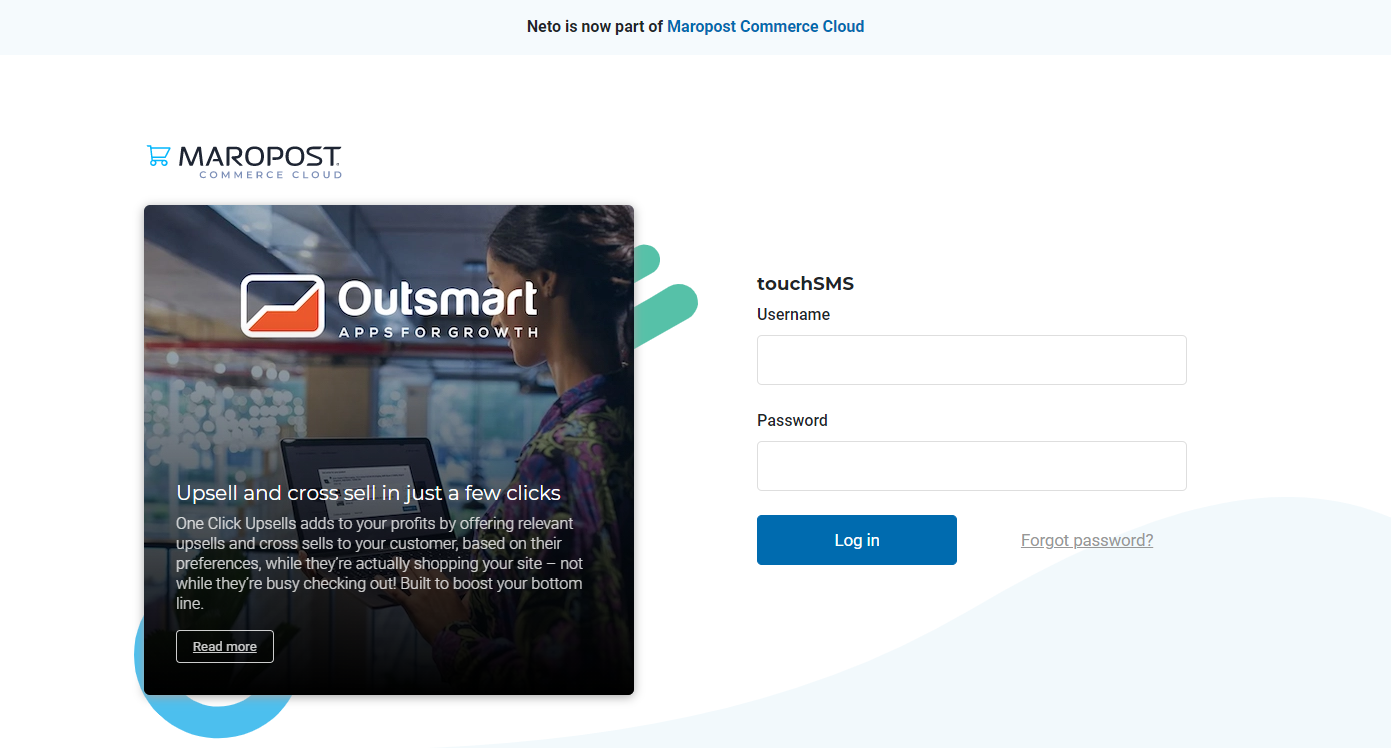 4. Once you have successfully connected, your Maropost Commerce Cloud configuration settings will now appear in touchSMS.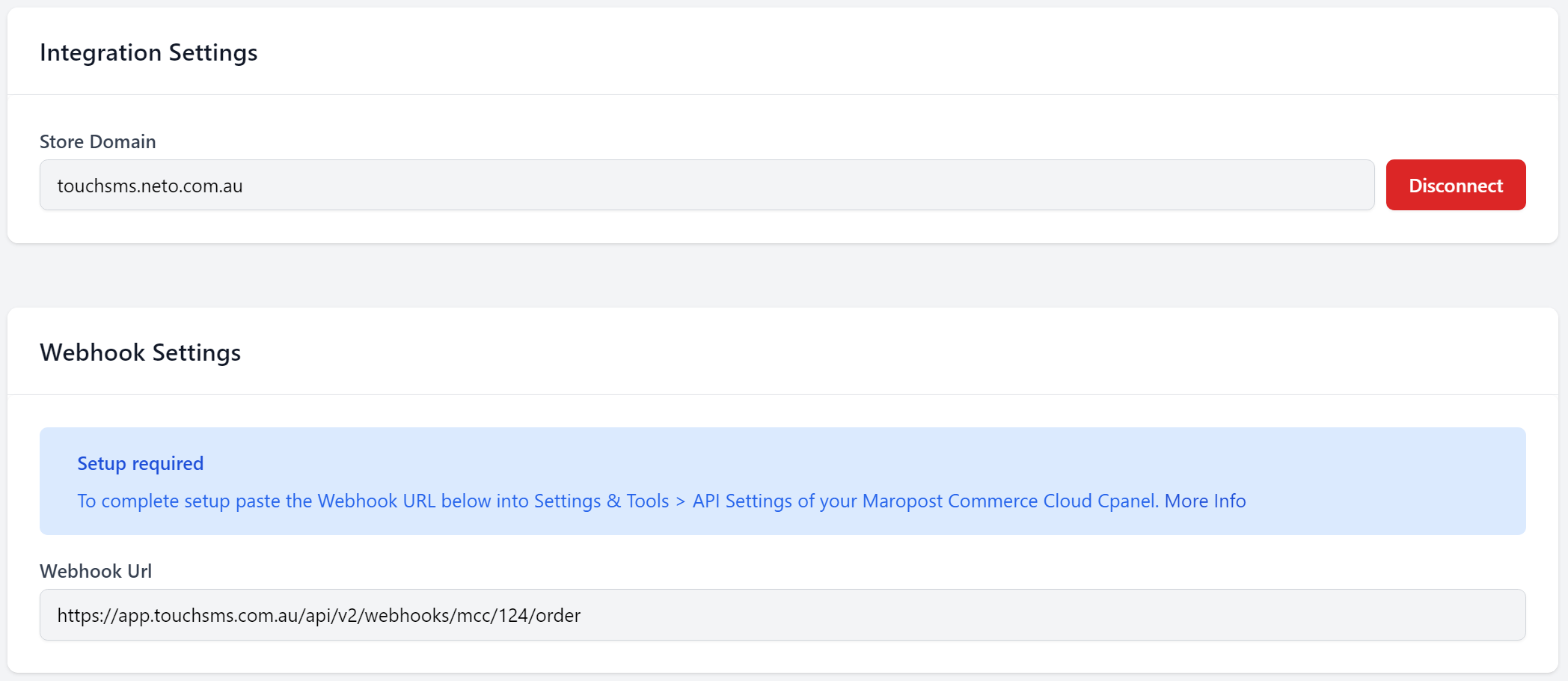 To complete setup paste the Webhook URL (found below Webhook Setting in your touchSMS account) into API Settings of your Maropost Commerce Cloud store Cpanel.
Updating Webhook URL
Login in to your online store Cpanel and go to;
Navigate to Settings & Tools > All Settings & Tools
Click on Developer Tools in menu > API Settings
Paste the touchSMS webhook URL into Neto API webhook URL field
Note: Before you click Save changes, be sure Enable Neto API webhook is checked
Click Save Changes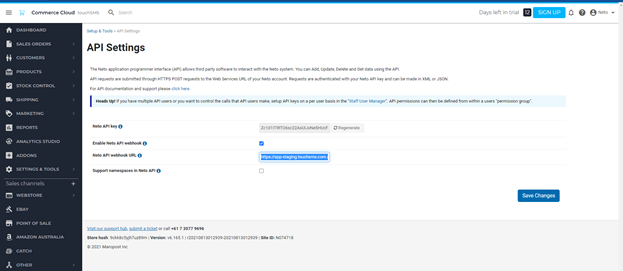 Done! Your touchSMS integration for Maropost Commerce Cloud is ready to configure
Configure SMS Notifications for Maropost Commerce Cloud
Log into your touchSMS account:
1. Navigate to Integrations > Maropost Commerce Cloud > Click Configure
2. Tick the boxes of your selected features. Click Save to enable.
General Settings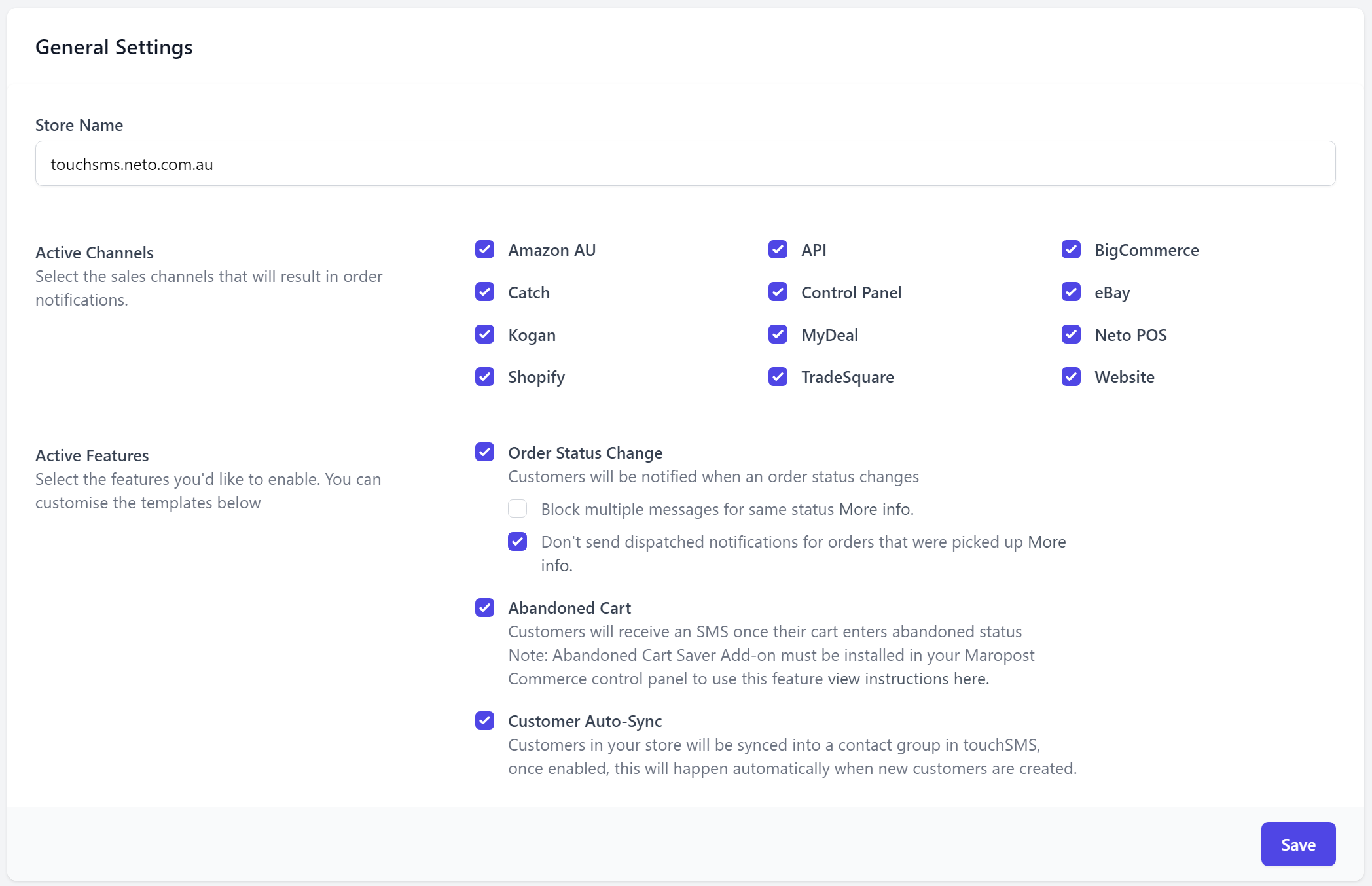 Store Name
The store name you enter here is inserted in the SMS notifications you send (as a merge field), so your recipients can identify your store as the sender.
Active Channels
Use the checkboxes to choose which of your sales channels are enabled for SMS notifications.
Active Features
Use the checkboxes to enable the following touchSMS features for Maropost:
Order Status Changes
Automatically send personalised order status notifications to customers by SMS. Choose which order status triggers an SMS notification and customise the content of each message template.
Abandoned Cart
Note: Abandoned Cart Saver Add-on must be installed in your Maropost Commerce control panel to use this feature view instructions here.
SMS customers who have added items to their cart but have not completed their purchase. Customise your message with offers or discounts that encourage them to return and complete their purchase.
Sync Customers
When selected, all Maropost customers will be imported to your touchSMS account as contacts. This means you can send marketing, promotional or reminder messages to your entire customer base or just a few, in seconds.
Enabling Order Status Notifications
If you have enabled Order Status Changes in General Settings, you must also select which order status you would like to trigger an SMS and what the message contains.
Scroll down to TEMPLATES and click the ENABLE button next to each order status you want to trigger an SMS.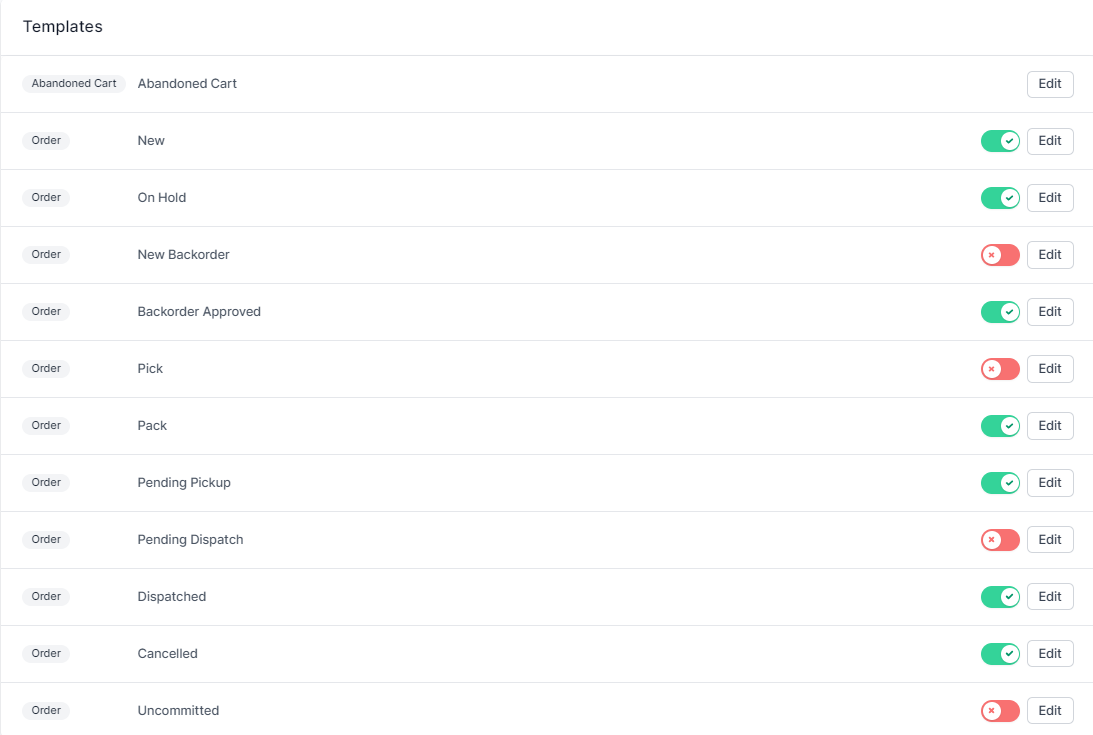 Editing Message Templates for Order Statuses and Abandoned Cart
To edit the content of the message, simply click the EDIT button next to each order status to open the template editor.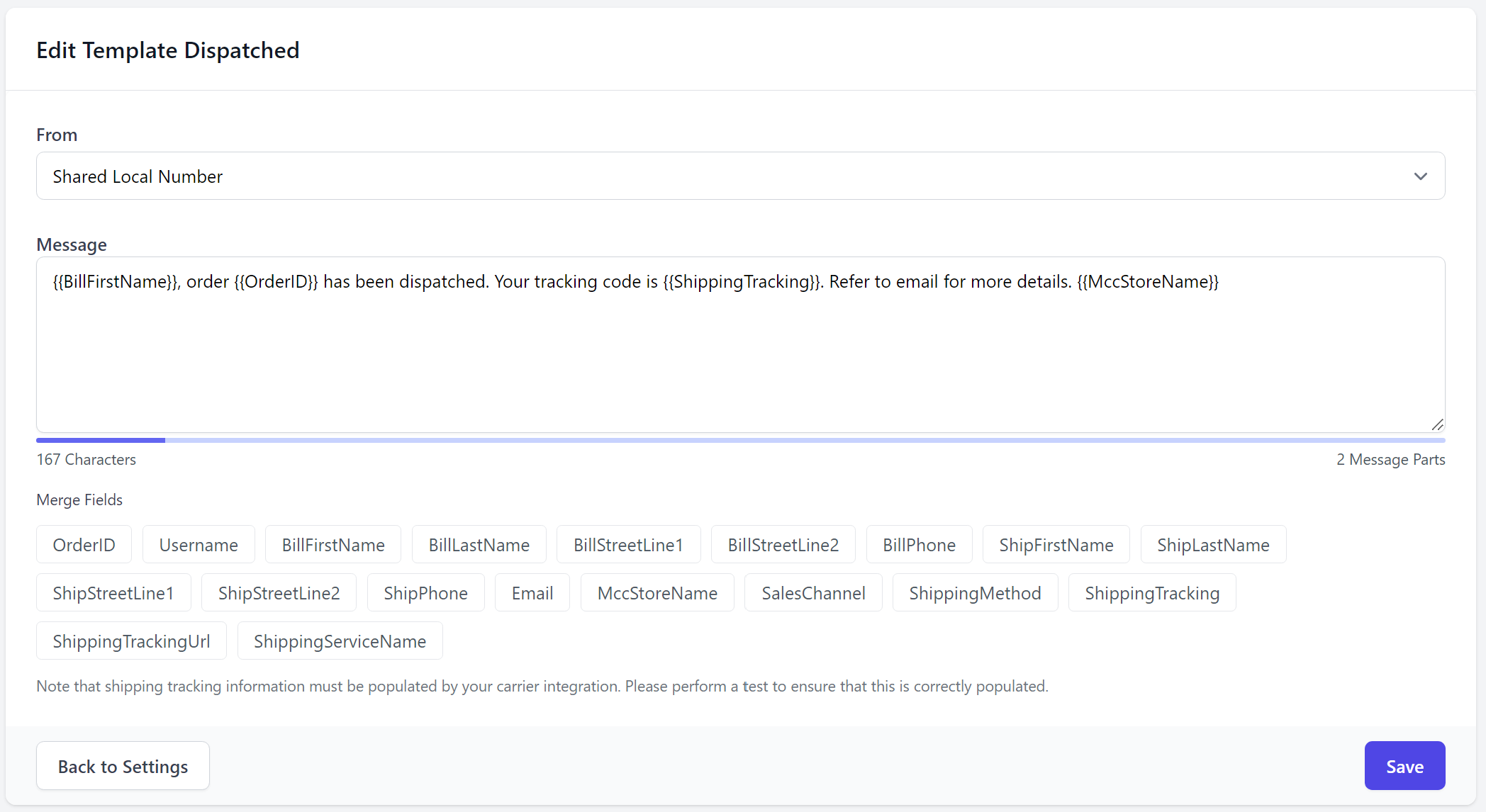 Use the From dropdown to select your Sender ID – this is what your SMS is sent from, the name or number that appears as the sender when your contact receives the SMS. Here are your options:
If you would like your recipients to reply to your SMS
Shared Local Number – Replies to Web Inbox & Email (Allow Replies)
This is a shared pool of mobile numbers that allow you to receive replies to SMS sent. Numbers are randomly selected, so recipients receive messages from a different number each time you send. This is free to use and receive replies.
Virtual Number – Replies to Web Inbox & Email (Allow Replies)
You can purchase a Virtual Number from your touchSMS account (pricing and availability vary per region). This number is assigned to your account exclusively to send and receive messages, so recipients receive messages from the same number each time you send. Click here for more info
Sender ID – No Replies
Replace the sender number with a word like ALERT, URGENT or send from your brand name, by setting up an Alphanumeric Sender ID (availability varies per region). Telecommunication protocols limit an Alpha Sender ID to a maximum of 11 characters long and cannot contain any spaces or symbols, so you sometimes need to get creative with abbreviating longer names. Recipients CANNOT reply to messages sent using a Sender ID.
Own Number – Replies to Your Mobile
As your mobile number is verified at signup, you can send SMS from touchSMS using your registered mobile number. Replies to messages sent using your own mobile number will be received by your mobile therefore not received in your touchSMS account.
To add a Sender ID to this list, in touchSMS click on Settings > Allowed Senders IDs.
Message
Each order status is pre-populated with a default SMS template. Feel free to edit the template to include customer and order information or links to your store. Each character is counted to ensure you know exactly how many message parts you are sending.
Merge Fields
Use the provided merge fields to add specific customer and order information to your message. Simply click on a merge field button to add it to the message. Keep an eye on your message length when adding merge fields – when the information is populated, this could increase the length of the message sent.
Once you have made your changes, click SAVE to confirm.
Useful Links
Signing up for touchSMS
To set up touchSMS simply complete the online registration form, you will be prompted to verify your details, once this is complete your account will be created and the setup process complete.
SMS for Marketing
Login to touchSMS and send marketing, promotional and reminder SMS to one or many of your customers, in seconds. Enabling Customer Sync to save your customers as contacts, then navigate to Send SMS to send your campaign.
View reporting of SMS sent via your touchSMS account
You can use the reporting feature in touchSMS platform to monitor and view all SMS sent from your touchSMS account including order change automated SMS.
View inbound SMS (replies) via your touchSMS account
You can use the Web Inbox feature in touchSMS platform to monitor and view all SMS received (two way SMS) from SMS sent from your touchSMS account including order change automated SMS.
Purchasing Credits
touchSMS is a pre-paid platform with no lock-in contracts, set-up fees or monthly fees – only pay for what you use. It is recommended to set up an automated credit top-up ensuring you never run out of credits.
View articles below;